I'm taking a personal day today to recover from last night. While it was a fun, alcohol-free evening....I knew I'd feel worse today than an all-day bender!
Last night I gave my daughter her birthday present. Originally, her present was to be a day off from school for both of us, but my request was denied. Feeling guilty, when she texted me one morning that her favorite performer would be in town in November, I jumped on it. Three tickets for the all ages show, me, her and her friend. Last night was the event.
I was reticent at first....I am not a fan of live music....I expected a night of patchouli oil and the aroma of marijuana clinging to clothes....I expected lots of angst....screaming kids....
While there were some doses of angst and the younger fans seemed to scream a lot, it was a whole lot of fun.
The night started shaky....I was late leaving school and when we arrived for our "meet and greet" with one of the acts, no one knew anything about it. Once we got in, the girls went down to the floor and I staked out a spot in the grown up zone and settled in.
The first band was called
Me Like Bees
. They are described a
s an indie
/alternative rock band from Joplin, Missouri. They really were a good rock act. They have a song called "Naked Trees" which is catchy and moving. They wrote it after the tornadoes
devastated
their hometown in 2011.
I chatted with most of the band members after the show. They seemed like a friendly bunch of guys. I bought Logan one of their CDs and a t-shirt for Haley to give him for Christmas.
Next was the act with whom my daughter is currently enamored. MOD SUN is an EXTREMELY laid back, self-described hippie rapper from Minnesota.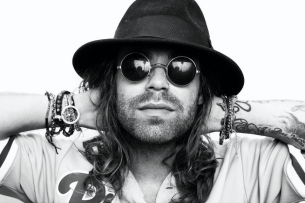 I am NOT this man's target audience but he was infectiously fun. He has a very positive outlook despite a pro-drug message that I am not on board with. That being said I found I had a big grin on my face the entire time he performed.
We met him after the show. He was very gregarious with his friends (he has no fans...everyone is his friend). We also met his DJ, Pat Brown. My daughter knew him and really wanted to meet him. He, too, was very friendly. Specifically thanked me for bringing the girls, commenting that it was his father's support that allowed him to get where he was today. I was impressed.
The next band was the self-proclaimed defenders of pop punk, Man Overboard from New Jersey. They were LOUD! An interesting line up of performers with two guys taking lead on the vocal. They had a loyal following in the room and played to the crowd!
The last act of the night was the headliners,
Never Shout Never
. These guys were my daughter's big thing for a while but she had cooled on them of late. The have had some "chart" success and had a song on the Tim Burton "Alice in Wonderland" soundtrack.
They definitely gave the kids the show they were looking for. Lead singer, Cristofer Drew, made a Jim Gaffigan reference which earned him some props from me. I kept expecting him to say "Dave's not here, man" which, if you get the reference, tells you his state of mind for the night.
He had a funny banter going with the crowd. His main instruments were his guitar and ukulele switching back and forth between each song. At one point, a girl called out that she was learning the ukulele. Drew pulled her up on stage and let her perform a song she had just written. The crowd supported her and the band tried to flesh out the song with her. She was nervous but it was a really sweet moment. The girls told me after that she goes to their school. We saw her on the way out and congratulated her for her effort.
All in all, worth the time and money spent, the headache today and the use of one of my precious personal days!